One of the best ways to celebrate fall is to get your nails to show off the theme of the season. We will have to agree that fall is the most colorful and vibrant of all seasons and your outfits alone do not have to show off the weather, fail nail art can be really cute and fun as well.
Also, if you are obsessed with fall like we are then let's be honest, you would be on the lookout for some of the trendiest and hottest nail ideas.
Everything just looks gorgeous during fall, and you can't miss out on adorning your nails with some baddie or decent nail art, whichever one suits your preference.
Fall is such an aesthetic season, from main staples to beautiful shades of yellow or red and orange fall leaves. There is just something delightful about nail art during fall. This is why we have rounded up the best fall nail ideas to copy right now.
25 Fall Nail Ideas to Copy Right Now
One of the reasons you should consider getting a nail that complements the fall theme is that you can easily pair it with your autumn and fall outfit ideas. So, you can check out these cute nail ideas you can flaunt all fall and enjoy some top-notch compliments as well.
1. Cinnamon Spice Nail Design
Cinnamon Spice Nail Art is one of those nails you can rock no matter the season, it is so pretty and goes well with anything. Whether you are looking to replicate these fall nail ideas made by talented nail artists or want to make it at home yourself, there is a choice of acrylic nail sets or nail stickers to help achieve it.
---
Great deals to snatch for your little ones 🎉
2. Oval Nail With Warm Blue Tip and Autumn Flower
The warm blue tone has never been out of season. This is a gorgeous fall-inspired manicure, and it is one of the colors that has been all over social media lately. The details are simple but immaculate, and we love how the flowers are taking a certain part of the nails, which sets the tone for autumn.
3. Autumn Glitz And Glam
These are so pretty right? Autumn Glitz And Glam is another nail design that would ensure you enjoy fall. Brown is often the color that comes to mind when we think of fall, and they do not have to be boring when you can glam them up just like this. Don't they just remind you of chocolate and cozy sweaters?
4. Emerald Green Glitter Nails
If you do love French tip nails then you are going to love this nail art further. This green goes well with the glitters, not only are they sparkly but even more eye-catching as a nail art idea for fall. This is one effortlessly chic acrylic nail and sure looks sophisticated as well.
5. Almond Nails With Burgundy and Gold Tip
Another way to celebrate the season is to simply get a mix or gradient of burgundy and gold for your nail art. This sure looks effortlessly pretty, and it also has a design that will look excellent on any skin tone. It's quite simple but chic.
6. Brown Gradient Swirls
Mismatch gradient nails are often the highlight of any festive season. Fall is pretty close to the festive season, so there is no reason not to get this nail art now. This is another fall nail design that will remind you of hot chocolate. It has become trendy, and no doubt that it is due to how pretty it is.
7. Gold Flaked Nails
If you are looking for something simple with a touch of gold then here is the classic choice to go for. This is a cool transparent nail design idea, the speckled gold flake is quite cute and fancy.
8. Medium Round And Autumn Spice
Next on the list is the perfect combination of autumn color palettes. Medium Round And Autumn Spice Nail art gives you the vibe of classy, simple, and fabulous. The soft shades are perfect for all seasons, and you can do them at home yourself.
9. Holo Fall Nails
Holo Fall Nails gives you a touch of glam while offering you a great way to start the season. If you love a bit of sparkle then this will no doubt be one of your favorites as it's quite adorable.
10. Pastel And Neon Nail Design
Next, we have the pastel + Neon nail design, which is even more fun and fascinating. This nail art is quite perfect for fall and also soothing for any skin tone. This is another nail design that has become super trendy.
11. Coffin Nail With Matte Green
This gorgeous design speaks volumes and the cool green color sure depicts the fall without being too flashy. This nail design must have been inspired by the leaves changes, it is also perfect for Thanksgiving.
12. Plain Yellow And Gold Acrylic Nail
An acrylic nail with tones of yellow and gold screams that fall is here. This is simply replaying the warm neutral color for a bold yet cool combo of yellow and gold.
13. Earthy Tones Fall Nail Design
Want the usual fall nail art with some twist? This is just the perfect nail art that works for any occasion. This is really cool and also fancy but makes the ideal choice for those who are not fans of long acrylic nails.
14. Shades of Orange Fall Nail Design
Orange is one of the fall color palettes that introduces the season, and we have to admit that it is really cute. Orange nails are perfect for fall and even more stunning when paired with this short almond nail design.
15. Blue Matte Nail Design
This is so creative and also very cute. It is just another fall nail art that is so pretty and currently worth adding to your nail design list.
16. Tortoise Shell Nail Art
These are classy nails that are so cute and creative. Tortoise nail art design is one of the trendiest nail art for fall, you just can't take your eyes off it.
17. Lipstick Gradient Nail Art
This nail art instantly has us thinking of a piece of art itself. While it does not have that much glitter, it is simple and pretty.
18. Pumpkin Spice Mani
We would have to agree that there are fall seasons where we just want simple nail designs. This is a real choice for any season.
19. Pink And Grey Nail Art
The more you look at this nail art, the more you fall in love with it. This design is sophisticated and they are practically screaming autumn.
20. Plaid Nail Design
Here is another fall nail art that screams perfect. This is gorgeous and if you are making it yourself, it is a chance to channel your inner artist and get to work recreating this adorable fall nail design.
21. Autumn Foxes
Autumn Foxes were fall designs that were recently introduced, and they are practically replicating the autumn color palette. This is a shade that works for all seasons.
22. Cute Chocolate French Nails
These chocolate French nails are perfect. This is regarded as an all-occasion nail and in addition to that, it is adorable.
23. Barbie Girl Fall Nail Art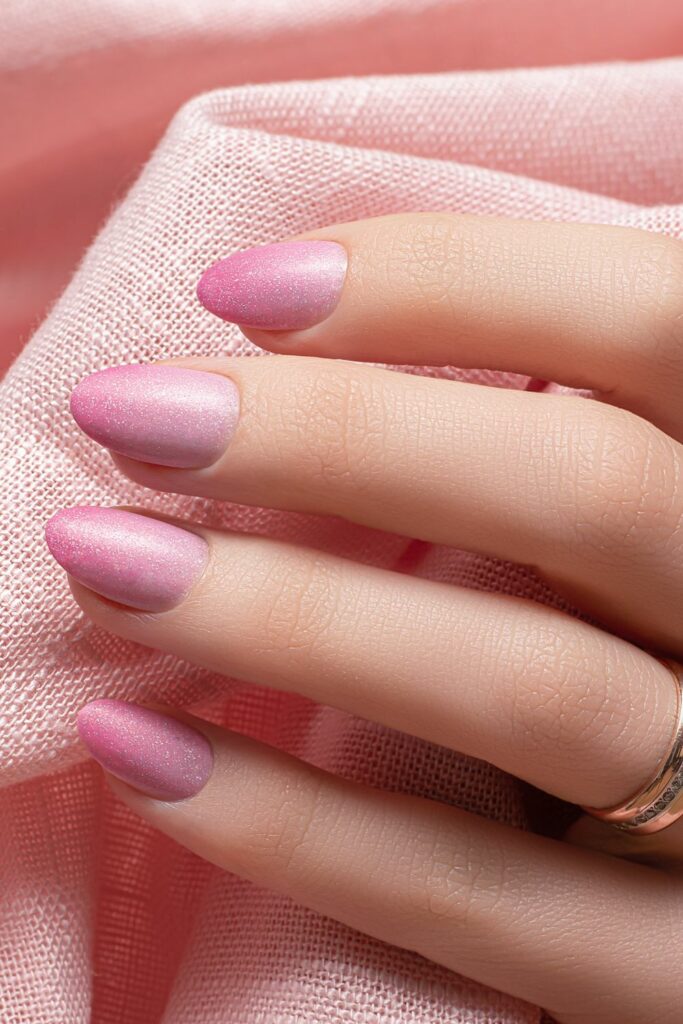 Want to take your fall nail art to the next level? We have seen amazing contrasting colors of this nail art on the internet, and we have always known how pretty pink nails can be. This has practically won many hearts, for being a cool Barbie autumn nail color palette.
24. Toffee Nude Foils Nails
Foils on nails are fast becoming trendy and it is one of the easiest ways to take your nail design to another level. Looks as simple and decent as it can be without any iota of boring. This is a fitting fall nail design for all the warm fall vibes.
25. Nail Art With Nature Vibes
This is not just pretty, but it is very easy to recreate. Nature nail art has always been pretty, and this is a chance to do something even more classy and simple. Also, the more you look at these nails, the prettier they seem to get.
What more could you ask for in a set of nails after going through this compilation of fall nail design ideas? You can never get tired of the nail designs, with all the staple fall colors that make each nail art unique, it is undeniable how pretty the autumn aesthetic is.