One of the ultimate ways to get the fall seasons right and stay healthy is to have the perfect salad recipe handy. Salads come in handy when you need to wrap up your fall meals; frankly, it gives you a chance to increase your veggie intake.
Healthy warm salads served at Thanksgiving dinner with family or fall parties can make the season more entertaining. Also, having this during lunch can add a pep to your step.
A colorful and filling salad might not be everyone's ideal salad, however, there is no reason to miss out on some vibrant fall salad recipes as they show the leave-changing season perfectly.
We have curated some of the best fall salad recipes perfect for the seasons for you below. Whatever your reason for wanting a bowl of salad, this hearty list of salads can serve you autumn.
17 Fall Salad Recipes Perfect For The Season
With ingredients such as apples, cranberries, kale, sweet potatoes, Brussels sprouts, beans, quinoa, and even lean proteins like salmon and chicken. You can try out some of these amazing healthy and filling fall salads listed below.
1. Arugula Salad
Arugula salad is a popular choice of colorful salad, so it's not surprising that it works perfectly for all your fall season dishes. This hearty salad is made with white beans, tomatoes, red onion, shaved Parmesan, and pine nuts.
---
Great deals to snatch for your little ones 🎉
2. Autumn Salmon Squash Bowl
If you want a classy salad that can be served to your guests and have them asking for more, this is the right choice. This is delicious and fancy.
Get the autumn salmon squash bowl recipe.
3. Cranberry Apple Quinoa Salad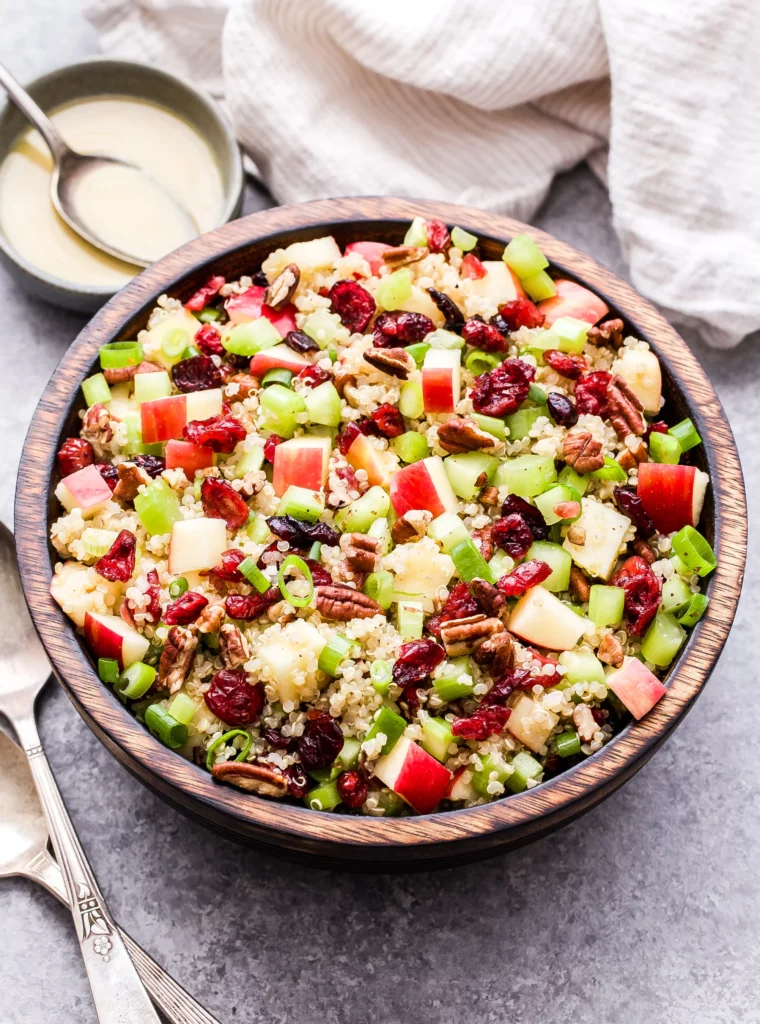 Here is another amazing salad you probably make every day after tasting it. This Cranberry Apple Quinoa Salad is perfectly enjoyed as a side dish or lunch. The pop of sweetness from the apple is unforgettable.
Get the cranberry apple quinoa salad recipe.
4. Warm Mushroom Salad with Bacon Mushroom Vinaigrette
Here is a refreshing and filling salad that can be enjoyed at any time of the day. This salad recipe features spinach, a slightly sweet vinaigrette, a soft-boiled egg, and lots of crispy bacon.
Get the warm mushroom salad with bacon mushroom vinaigrette recipe.
5. Autumn Kale And Sweet Potato Salad
Want some fresh veggies to kick-start the month of November healthy eating plans? This is a great choice of fall salad, the heartiness of the kale is one you won't forget in a hurry.
Get an autumn kale and sweet potato salad recipe.
6. Autumn Pear Salad
This healthy salad is layered with juicy pears, crunchy walnuts, spring greens, salty-rich Parmesan, and a tangy balsamic vinaigrette. These ingredients come together to give you a vibrant, delicious salad that can easily become your fall favorite.
7. Cherry, Wild Rice & Quinoa Salad
Here is another salad with the fall leaves vibrant color. This salad contains ingredients that are perfect for toting to summer potlucks.
Get the cherry, wild rice, and quinoa salad recipe.
8. Cherry Tomato Caesar Salad with Crispy Onions
This beautiful salad lets you keep it dairy-free or not while still being enjoyable. It also allows you to be around with the classic flavor of your choice.
Get the cherry tomato Caesar salad with crispy onions recipe.
9. Greek Chickpea Salad with Green Goddess Dressing
Greek Chickpea Salad with Green Goddess Dressing is quite healthy and the ideal choice for anyone on a strict diet plan. It is easy to make and pretty colorful as well.
Get the Greek chickpea salad with the green goddess dressing recipe.
10. Broccoli, Ham & Pasta Salad
This is another fancy fall salad recipe you will no doubt enjoy. This is a simple recipe made with broccoli ham and cheese pasta salad.
Get the broccoli ham and cheese pasta salad.
11. Fall Brussels Sprouts Salad
This salad recipe works as a side dish for all kinds of holidays. This is simple and flavorful.
Get the Brussels sprouts salad recipe.
12. Healthy Warm Farro Salad
For the perfect warm bowl of healthy salads, this is the right choice of salad to try. This is simple and flavorful, every bite gives you a balanced taste of smoky, tangy, and sweet.
Get the warm Farro salad with sweet potato and kale.
13. Winter Pear, Pomegranate & Swiss Salad with Poppy Seed Dressing
This salad gives you a chance to create an amazing recipe that has all the best fruits of the season. This is an ideal holiday dinner recipe you can enjoy at any time of the day.
Get the winter pear, pomegranate, and Swiss salad recipe.
14. French Carrot Salad
If you are generally big on bold flavor then you are surely going to love this amazing salad. Pretty hard not to love carrots, and they add to the beauty of this salad.
Get the French carrot salad recipe.
15. Easy Sweet Potato And Kale Salad
It's the weekend and if you are a big fan of big breakfast salad, this is the excellent recipe to go for. The base recipe is simple, and it is full of flavor as well.
Get the sweet potato and kale salad recipe.
16. Waldorf Salad
Waldorf Salad recipe Is considered a classic, each component of this salad gives you a unique taste. For those who are looking for lighter salad without mayo, this should be your go-to option.
17. Kale Salad with Pan Seared Salmon
Kale Salad with Pan Seared Salmon can easily become your go-to dinner. This recipe features avocado, pumpkin seeds, kale and salmon. It serves as a light dinner that can be enjoyed with family and you can easily feel the flesh of the fish.
Get the kale salad with the pan-seared salmon recipe.
The drop in temperature is not a reason to put your salad spinner away. Fall salad recipes are notable for making the season more colorful, and you get to eat healthy too. Also, if you are looking to impress your guests with a Thanksgiving salad, look no further than the amazing recipes listed above.